How take measures on your spa filter?
Having a clean spa filter is essential for keeping the spa water clean and clear. It is therefore strongly recommended to change it regularly. A filter keeps all impurities out of the filter circuit.
At BOOSPA you will find a selection of a wide range of cartridge filters for many brands and manufacturers of spas and inflatable spas.
Changing a filter can therefore sometimes be complicated, especially if you don't know how to measure and identify it easily.
Measuring your spa's cartridge is very simple. Please follow the steps below to ensure that you do not make any mistakes.
Please note that measurements are subject to a margin of error of +/- 3mm.
Measuring the diameter of a spa filter
The diameter of a filter cartridge is always measured from the outside. To get the most accurate measurement, take the diameter of the plastic surface (often blue) and not of the part where the folds are located.
Why take the diameter of the plastic support and not the diameter of the filter part ?
The plastic support often has the largest diameter of the cartridge, so measuring it prevents the new filter from being too small to fit into the spa skimmer.
Measuring the length of a spa filter
Measure the length of the filter cartridge from end to end.
Note that the measurement should include the thickness of the plastic end cap, but not the handles or threads.
Measuring the diameter of a filter opening
A filter may sometimes have an opening from one end to the other. The diameter to be considered will be the inside diameter of this opening.
Measuring the thread pitch of a filter
The most common threads on spa filters are MPT or SAE. These threads are measured by taking their external diameter.
Note that some filters are also equipped with a thread inside the opening, in this case the measurement is taken inside the filter. (see photo below)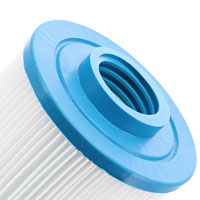 Identifying a MPT thread
This is the most common type of thread. This thread is fine and well designed. It is called MPT (Male Pipe Thread).
This thread filter is generally found in 3 sizes :
1.5 inch,
2 inch,
or 3.5 inch MPT.
Identifying a SAE thread
Some filters have a larger thread pitch, it is called SAE.
You can usually find them in 2 sizes :